Trick Dog Class
Class limited to 8 students
4 weeks/$100
Prerequisite: None

Dogs/puppies over 3 months of age are welcome. No aggressive/reactive dogs please.

Dog tricks are more than just entertainment for friends and family!
In this 4-week, one-hour class taught by Certified Trick Dog Instructors, your dog will learn tricks and games in a fun and positive way. Enrich your dog's life by becoming more aware of how your dog learns, therefore strengthening the foundations of basic obedience.

Benefits of trick training:
Improves communication
Increases focus and concentration
Mental exercise for dogs
Builds confidence – great for shy dogs
Teaches impulse control
Increases dog's body awareness
Strengthens the bond between you and dog!
Bring to class:
Leather leash; pull tab if you have one
Variety of tiny training treats
Bait bag
Favorite small toy
Clicker (available for purchase)

Covid-19-Socialization for Puppies
Covid-19-Prevention of Separation Anxiety

Trick testing is offered on the last night of class if you wish to earn trick titles under AKC Trick Dog or Do More With Your Dog titling programs. For more information: www.akc.org or www.domorewithyourdog.com

Note: If your dog attempts to bite or has bitten a person, or lunges/snaps at other dogs, or you are not physically able to control your dog, then a group class is not a suitable environment. It is best to consult with an animal behaviorist.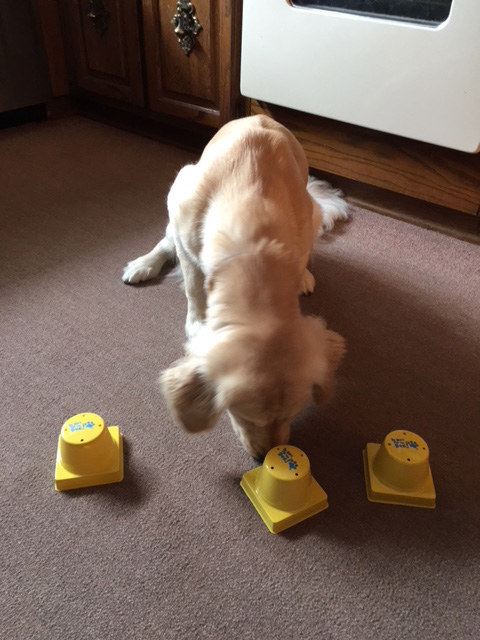 TRICK DOG CLASS
Monday Morning
9:30-10:25AM
Instructors:
V. Smith
$100.00
TRICK DOG CLASS
Monday Evening
7:30 PM
Instructors:
S. Jacques, R. Kuttner
$100.00
Refund Policy: No refunds given after the first class. SDTC Members, Associates and Students:
You must register 48 hours before the start of class or there will be a $10 late fee.